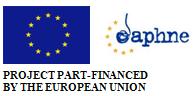 Project title: Be supportive, Notviolent! Positive parenting for happy children!
Overall goal:
The project aims at raising awareness on the negative effects of corporal and verbal punishment ofchildren, as well as at promoting positive parenting and non-violent raising of children in all environments (home, school or any other institutional or non-institutional setting).
Specific objectives:
-research on the national programmes and legislations existing in the European partner countries against corporal punishment of children, as well as research on children's experiences of violence in their homes, schools and other settings, in order to have an updated picture of the European situation;
– build on the good practices of positive parenting existing at European level in order to create a new model of parenting education that promotes positive and non-violent child raising based on stress and anger management and recognition and empowerment of children's attitudes,achievements and abilities;
-develop educational and informational materials both for children and parents, teachers and other carers about children's rights, negative effects of violence and existing support available for guidance and protection of abused children;
– organising awareness raising seminars for professionals that work with children, national and international conferences for parents,professionals and the large public in view of raising awareness on responsibility and means of action.
Partners: Rumania, Latvia, Poland, Sweden, Spain, Italy.
Outputs:
No.1 Newsletter – (download here)
No.2 Newsletter – (download here)
No.3 Newsletter – (download here)
No.4 Newsletter – (download here)
Analysis report about general situation of violence against children problem in Europe – Romania, Spain, Poland, Sweden, Italy and Latvia. Opinions and attitudes of children and parents towards violence. Normative regulation, national programs and best practice examples. Year 2012. (download)
Booklets created in the scope of the project.
Informational flyer about the project :